Win up to $30,000 Cash!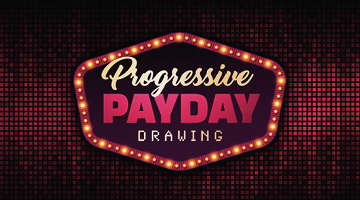 Progressive Payday Drawing
Sunday, May 28, 2017 at 8:00pm. 10 Winners will be chosen.
One winner is
GUARANTEED
to win
$1,000 cash
or a
progressive prize!
Current Progressive Prizes:
Major: $30,000
(progresses $5,000 each month)
Mid: $6,000
(progresses $250 each month)
Low: $2,900
(progresses $100 each month)
Earn entries every day by playing with your B Connected card. Plus, earn BONUS entries every Sunday at any KIOSK!